The Buckhorn, Wenzel Friedrich
&
Billie Keilman's Horn Palace
The Buckhorn Saloon was founded in 1881 by Albert Friedrich, son of cabinet maker and famed horn furniture maker, Wenzel Friedrich. Wenzel's reputation was well-known in America and foreign countries, and from 1880-90 he made some of the most beautiful horn furniture. The Buckhorn was located on Dolorosa Street in San Antonio. Albert was very fond of deer antlers and cattle horns, which he used to decorate his saloon. As word of this got around, he began offering to trade a drink for horn or antler specimens. The collection grew, and over the years it became larger and larger -- and so did the Buckhorn's reputation. It became a San Antonio landmark and was known around the world. In its heyday, it was the largest horn collection in America.
During the same time, another massive collection of horns and mounted specimens was being gathered by saloon-keeper Billie Keilman who displayed in his Horn Palace in San Antonio, beginning in 1912, an establishment well-known for its chicken dinners, music and nightlife. Billie claimed to have the largest horn collection in the world with over 5000 specimens from many countries. The Horn Palace was sold to the Buckhorn in 1921, which then made it the undisputed horn king of San Antonio. What remains of the Buckhorn's collection may be seen today in San Antonio.
Mounted Horns


7 ft. 2 ins Mounted 1932
In the Buckhorn Collection from 1932-1991.


Mounted horns were sold from the Buckhorn Curio Shop in San Antonio. Many original mounts looked like those at the left and above. Some mounts, however, were in a state of disrepair and required restoration. The mount above was restored by Alan Rogers.

Horn Chairs



A classic Wenzel Friedrich horn chair.

Wenzel Friedrich, maker.
San Antonio, Texas.
Two chairs of the 1880's.

Acorn finials of horn.
Tiffany glass ball casters.

The majority of Friedrich chairs were covered with cloth or cattle hide. The Tiffany glass ball casters were also used by Charles Puppe and William Mittmann, horn furniture makers of the 1880's in San Antonio. Mittmann also fitted the tips of his horns with acorn finials.

By 1884, Friedrich was having trouble finding in his own area the size and shape of horns he wanted for his furniture and began seeking a supply from Old Mexico.


Among the most beautiful of all horn chairs ever made. Wenzel Friedrich offered this model as his top of the line, having a horn-veneered seat frame, inlaid ivory star, back seat cushion, with the cat hide covering. Sold new in 1889 for around $70.
| | |
| --- | --- |
| A Buckhorn child's rocking chair made from wood and horn. | Fancy horn rocking chair from Billie Keilman's Horn Palace. |
Hatracks

Hatrack of the 1880's by Wenzel Friedrich.


The Use of Acorn Finials Made from Horn

The above mounted cow horns came as a set with the hatrack seen on the left when made in the 1880's and have been together all their life.

Friedrich's hatracks usually featured a beveled, diamond-shaped mirror on a horseshoe shaped board, topped with a curly horns. Although not unique to his work, Friedrich often incorporated acorn finials made from horn. This rack still has its ten original acorn tips, which very often are missing in whole or in part on Friedrich furniture.
Clocks and Inkwells
The Buckhorn Curio Shop sold many items incorporating horns of steer,
buffalo and sheep as well as boar tusks and decorative trims.
Some of the most popular were clocks and inkwells.


Uncommon sheep horn clock sold at the Buckhorn.


Horn and boar tusk inkwell.


Largest of the clocks sold at the Buckhorn.
Cattle horns and hooves, and horns of a Merino sheep. Clock runs and keeps near perfect time, with beautiful chimes.


The Buckhorn's popular clock with bull figurine.


1920's inkwell.
Billie Keilman's Horn Palace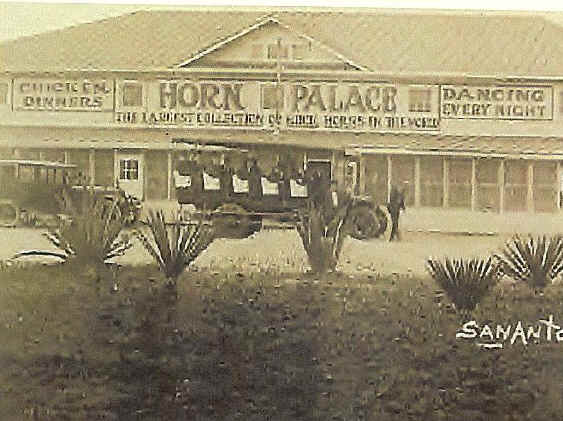 A San Antonio Landmark from 1912-1921, having over 5000 mounted specimens.
Billie Keilman.
Saloon keeper.
Born 1875.
Died 1925.

Read about Billie Keilman CLICK HERE
Read about the Buckhorn and the Horn Palace,
Wenzel Friedrich, Albert Friedrich and Billie Keilman by clicking here.
View more horn chairs, hatracks and tables by clicking on these links!
Horn Chairs Horn Hatracks Horn Tables Metz Collection