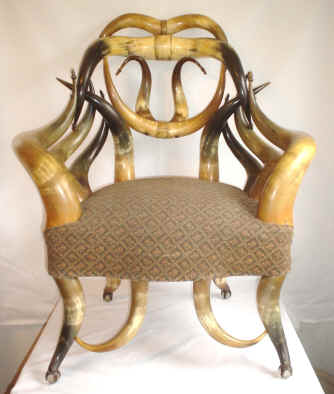 By 1884, Friedrich was having trouble finding in his own area the size and shape of horns he wanted for his furniture and began seeking a supply from Old Mexico.
Wenzel Friedrich, San Antonio.
Two chairs of the 1880's.
Acorn finials of horn.
Tiffany glass ball casters.

Materials offered on Friedrich chairs include:
* a silk plush (velvet)
* hides from cattle, angora goat, jaguar, catamount and fox.
* His office chair model with a cane and walnut seat.
The Tiffany glass ball casters were also used by Charles Puppe and William Mittmann, horn furniture makers of the 1880's in San Antonio. Mittmann also fitted the tips of his horns with acorn finials. Acorn finials have never been seen on any chair made by Charles Puppe.
To see Texas-made chairs by Charles Puppe, William Mittmann, the Appel Bros. and chairs from the Horn Palace click here and compare them to Wenzel Friedrich.

See more Buckhorn/Friedrich furniture - click here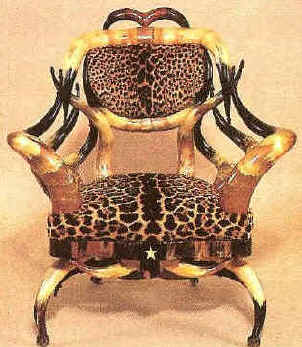 Among the most beautiful of all horn chairs ever made. Wenzel Friedrich offered this model as his top of the line, having a horn-veneered seat frame, inlaid ivory star, back and lower seat cushion in jaguar hide. Sold new in 1889 for $80.